Carol grew up in Burwood near Sydney's Inner West. The only daughter to Norma and Bill, Carol loved to be outdoors and play with friends in the neighborhood.
Before the age of three (3), Carol was involved in a bus traffic accident, and subsequently, her left leg was amputated. She also suffered gangrene and damage to her right leg as a direct result of septicemia from the injury.
"I walked with a peg leg. That was about the only option in those days".
"We lived behind MLC High School and there was a local family who I would see drive their three daughters to school each day.
The girls had noticed me on their travels and the challenges I faced with mobility. 
Eventually, we got talking and their parents asked my parents to allow me to play at their house on some weekends".
One Christmas not too long later, the other family won in the NSW Lotteries' and the girls were told they could have anything they wanted for Christmas.
"We would like to buy Carol an artificial leg so she can play just like us," they told their father.
It was not as simple as buying a leg at a store. Carol was about 9 years old at the time, and so the family set up a Trust for her parents to access when she needed a new leg, because she was growing, replacements were semi-regular.
Carol proudly said, "the Trust helped me until I was about 18 yrs. old. The generosity of the young girls demonstrated maturity and insight into Community at such a young age".
I started work at a store when I was sixteen (16) and soon progressed to the office before commencing a Medical Technician Certificate at a Sydney College.
carol loved learning so much that she transferred to a Diploma in Microbiology and worked in pathology labs both in Australia and in Europe.
Carol said, "I was fortunate to travel as much as I did. It was in part because I was so mobile thanks to my prosthesis helping my mobility."
On one trip while in London, Carol's Father tragically and suddenly passed away, so she returned home to Australia, to help her family.
Still eager to learn, Carol commenced a Bachelor of Philosophy and Fine Arts at the University of Sydney.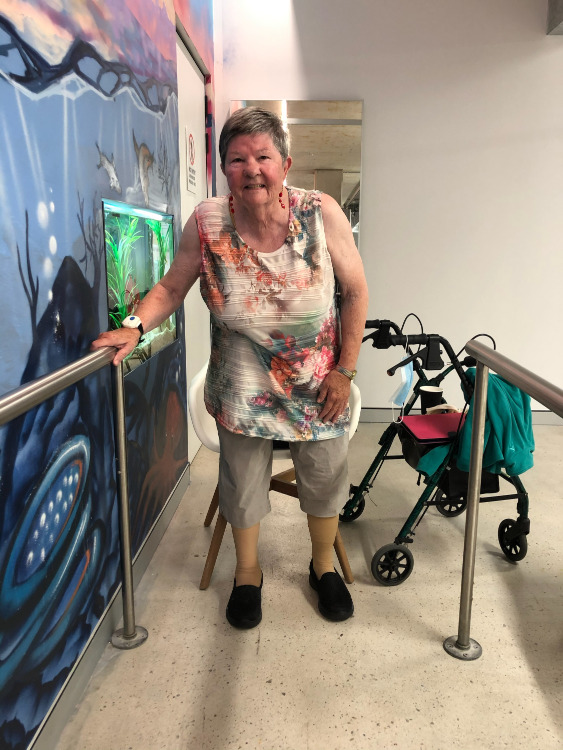 "I also achieved a Diploma in Education with a double major in English and this led me to teach in various schools. Initially I was at Christian Brothers and then De La Salle for over 20 years in each".
Carol retired in about 2001 and it was near this time she was diagnosed with Non-Hodgins Lymphoma.
Carol shared "that slowed me quite substantially with multiple chemotherapy treatments. In 2011, I received a stem cell transplant, and this helped me into remission. So here I am today."
Lifelong, Carol kept setting goals and having a go. She played the violin in many orchestras and community shows; in retirement, she started sailing, and I generally keeps active.
I would love to say thank you to the girls one day, but we lost touch over the years when they moved away after the war. I am still grateful for what they did for me when I was younger".
We all have a story and each one is as unique as the person who tells it.
How will you Pay It Forward this year?