A lot has happened since we first shared Mia Stewart's story.
Starting big school is an exciting milestone for any child. Developing independence, learning the what's, why's and how's of the world. It's an important time and can equally be a challenging experience for any parent whose child lives with Limb Difference.
Will other kids understand, and will my child be included in all the same opportunities as their peers?
Mia Stewart could hardly contain her excitement to start school and has thrived ever since. Her mum Leila visited her class to discuss Mia's leg, explaining how everyone is different and that no matter what our differences, we all have feelings… it's important to be kind!
Question time gave the class an opportunity to ask those burning questions, but mostly they wanted to talk about when they hurt their own arms or legs.
Leila said "I went in to discuss all things Mia's leg. We took her water leg with us & Chelsea her doll that has a prosthetic leg, to give the kids a bit of a visual hands-on experience and help them understand."
Leila was hopeful they took something away from it. She said "It's hard to explain to 4 and 5-year-olds when Mia's leg even blows adults' minds when we tell them. We stuck to the basics & they seemed satisfied with that."
On the way home not long after starting school, Mia said, "Mum ever since starting school, my head is just so full, I can't stop thinking about all the letters and numbers I'm learning! I can't stop thinking! I just can't stop, my brain is full, it's so tiring!"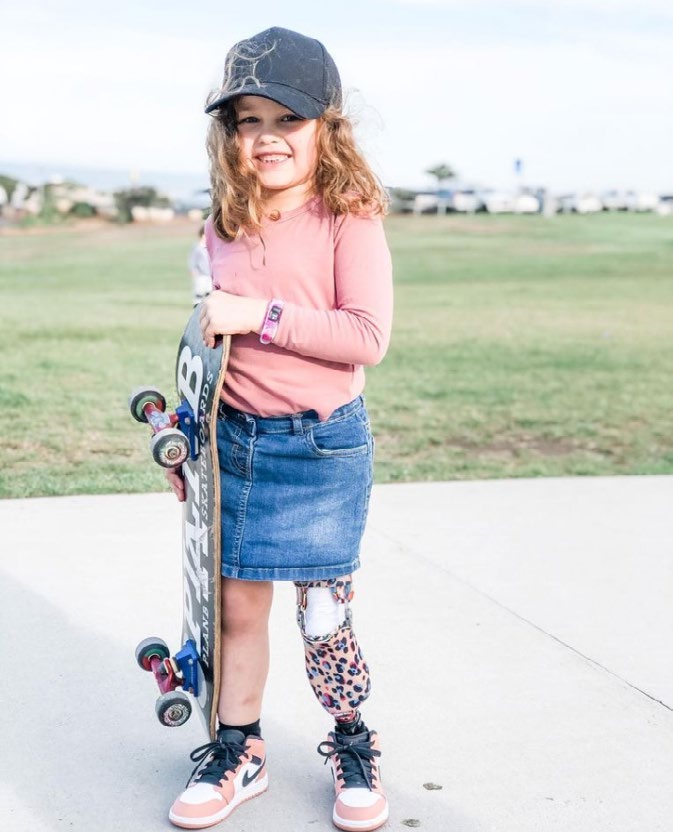 An equally important part of learning is social engagement and developing friendships. Leila shared how she and partner Brent were always worried that starting school Mia may not get invited to parties, especially if they were at venues such as activity venues.
"I thought people might assume she couldn't join in and so it would be easier to just count her out but so far we have been lucky for her to be included."
A testament to the spirited, cheerful and adventurous young lady Mia Stewart is growing into, she has made a beautiful group of friends and enjoys all the same school events and birthday celebrations outside of school like any other child in her class. Leila said, "Mia is such a little go-getter. She takes everything in her stride and gets involved!".
Follow Mia on Instagram @miasbigadventure